Head-On Car Accidents
Taunton Auto Accident and Personal Injury Lawyers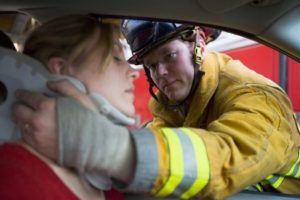 Head-on collisions are far and away the most dangerous (if not the most common) type of car accident, for a simple reason. If you're traveling at 40 miles per hour and you're rear-ended by a car going 45 miles per hour, the net impact amounts to only 5 miles per hour of force. But if you're traveling at 40 miles per hour and collide head-on with a car going 45 miles per hour, the impact both drivers feel will be equivalent to 95 miles per hour—enough to seriously injure, if not kill, the occupants of both cars.
We Use Accident-Reconstruction Experts To Prove Fault
If you're involved in a head-on car collision, the first thing the police (and the insurance companies involved) will want to determine is who was at fault: you or the other driver. If there are no reliable eyewitnesses, authorities can examine forensic evidence—skid marks, damage to the cars' interiors and exteriors and injuries suffered by the drivers—to recreate the circumstances of the crash. If liability remains an issue, The Law Offices of Gerald J. Noonan employs a team of accident-reconstruction experts that can present convincing evidence in your favor to a judge, jury or insurance-company representative.
Often, in head-on collisions, it turns out that the driver at fault was drunk, going too fast, or distracted by talking on his cell phone—and in more cases than you might think, drivers who cause accidents are also often uninsured or underinsured.
We Will Seek To Hold All Responsible Parties Accountable For Your Accident
Since head-on collisions can result in serious injuries (broken bones, internal bleeding, damage to the brain or spinal cord) it's important to hire a lawyer who can recover the most damages possible—not just from the driver involved or his insurance company, but other people or institutions that may have contributed to the accident. (For example, bars in Massachusetts can be held responsible for continuing to serve inebriated patrons who later drive drunk, and the state itself can be sued for improperly maintained dividers or other hazardous road conditions.)
Head-On Collision Accident Victim? Talk to an Attorney for Free
The Law Offices of Gerald J. Noonan has been helping accident victims throughout Massachusetts recover from serious car accidents for almost three decades.
No matter where you are located, we are just a phone call away. Call our head-on collision and car accident victims trial lawyers today at (508) 588-0422 to schedule a free no-obligation case review and consultation and you will have taken your first step to find out how you can pursue justice and compensation in civil court. You can also click here to use our Free Case Evaluation Form.