Hit-and-Run Car Accidents
Brockton MA Personal Injury – Hit And Run Car Accident Insurance Claims Attorneys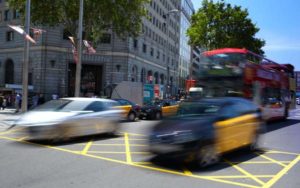 It can be especially difficult to recover damages from the perpetrator of a hit-and-run accident, for the obvious reason: if the person responsible for hitting you, your property, or your car doesn't stop, and police are unable to identify him or his vehicle, you have no one to hold liable for your injuries or property damage. Fortunately, the uninsured motorist insurance policies that all drivers in Massachusetts are required to buy requires a payout in these kinds of hit-and-run incidents. If your insurance company refuses to settle your claim, the attorneys at The Law Offices of Gerald J. Noonan can present convincing evidence that the hit-and-run accident in fact occurred and was not your fault.
Of course, in many instances, the motorist responsible for a hit-and-run accident can later be identified via forensic evidence (for example, incriminating paint chips left on your car or property) or a review of video surveillance tapes. In these cases, not only would that person be subject to increased civil and criminal penalties (especially if the hit-and-run accident resulted in serious injury or death to a pedestrian or driver), but the attorneys at The Law Offices of Gerald J. Noonan can initiate proceedings against the driver to recover damages.
Call For a Free Legal Consultation And Learn More About How Our Brockton Attorneys Can Help You.
The law offices of Gerald J. Noonan is a personal injury firm that has been helping the people of Massachusetts recover from hit and run car accidents for almost three decades. Attorney Noonan is a Boston Personal Injury Attorney with thirty years of trial experience.
Our knowledgeable and experienced Brockton personal injruy attorneys at the Law Offices of Gerald J. Noonan are available to assist victims of hit-and-run drivers throughout all of Southeast Massachusetts, including but not limited to Brockton, Taunton, Bridgewater, Weymouth, Hingham, Quincy, Plymouth.
No matter where you are located, we are just a phone call away. Call our Boston Hit & Run Accident Lawyers to schedule a free no-obligation case review and consultation at (508) 588-0422 and you will have taken your first step to find out how best to confront this important matter. You can also click here to use our Free Case Evaluation Form.
FAQs About PIP Insurance and Car Accident Claims
We Can Handle Car Accident Insurance Claims and Paperwork For You
A car accident can be emotionally and financially stressful and the anxiety can quickly build with all the confusing paperwork that follows in the wake of an accident. Most people never deal with these issues and paperwork until they get into a car accident. Our personal injury lawyers at The Law Offices of Gerald J. Noonan will handle all your paper work from the beginning. It is part of our overall personal injury claims service to provide help with car repair, rental, and storage issues.
We will put all the insurance providers on notice that we are handling your case and that they should direct all paper work and questions to our attention. Once we put them on notice that you have retained our personal injury services they can not contact or harass you. This will protect from giving any statements that can be used against you.