Pedestrian Crosswalk Accidents
Insurance Companies May Try To Blame The Victim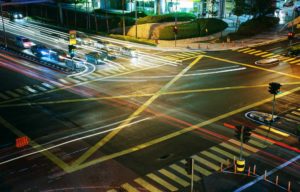 Insurance companies are notorious for looking for ways to avoid paying on a claim, or offering "low-ball" settlements.  One of their strategies is to assign as much blame as possible to the victim.  Pedestrian accident statistics are sobering to both victims and to insurance companies who pay on claims.  According to Luis Martinez, an accident reconstructionist:
"Since 1975, between 14 and 17 percent of motor vehicle deaths have been pedestrians. Pedestrians accidents are exceeded only by falls and motor vehicle accidents as a cause of accidental deaths. The annual cost of pedestrians accidents to society exceed one billion dollars."
Insurance companies often have to bear the brunt of the cost of accident claims, and in order to make profits, need to put their own interests above those of accident victims.
Pedestrian Accident Statistics
Although fatal pedestrian accidents has declined nearly 23% between 1995 and 2010, roughly one pedestrian is still killed in a roadway accident in the United States every 115 minutes. That brings the total to 4,500 annual pedestrian deaths every year.
A non-fatal pedestrian accident occurs every ten minutes in the United States. Although reckless or negligent driving is usually the cause of most pedestrian accidents, carelessness on the part of pedestrians accounts for a fair share of the pedestrian accidents that happen throughout the country every year.
In order to decrease the number of pedestrian accidents that occur every year, both drivers and pedestrians must realize that they each have a set of responsibilities. It's important for pedestrians to realize that they have a responsibility to obey traffic signals and lights.
There are many situations in which pedestrian accidents occur. The majority of pedestrian accidents occur when pedestrians are crossing the road. The following are some of the circumstances:
22.3 % of pedestrian crossing accidents occur when there is no pedestrian signal or crosswalk;
21.7 % of pedestrian crossing accidents occur when there is a pedestrian signal;
9.9 % of pedestrian crossing accidents occur when a pedestrian fails to comply with pedestrian signal;
5.7 % of pedestrian crossing accidents occur when there is a crosswalk but no pedestrian signal;
6% of pedestrian accidents occur when a pedestrian is exiting a parked car;
0.2% of pedestrian accidents occur when children are getting on or off a school bus.
Free Consultation, No Obligation, No Fee If No Recovery
If a car has hit you or a loved one, you should consult our attorneys to learn your legal rights. Pedestrian accidents result in very serious injuries ranging from fractured bones to brain and spinal injuries, long term disability or even death.
Don't let insurance companies hold the power in their hands.  Our attorneys will work hard to reconstruct your accident and will aggressively seek to hold all parties accountable.  There is no fee unless we recover for you in a verdict or settlement.  Insurance companies are businesses and cannot give you sound legal advice.  You need to have your own attorney on your side when dealing with serious accident claims in order to get the best possible compensation — the compensation you deserve and may need in order to rebuild your life.