Pedestrian Jaywalking Accident
A driver might be responsible for a pedestrian accident even if the pedestrian did not use an available crosswalk and crossed the street at a point between crosswalks.  That is because a pedestrian has a right to travel anywhere on a highway or street and not merely on the crosswalk.
It should be noted that from the pedestrian's point of view, a violation of the jaywalking statute (M.G.L. c. 90, § 18A) cannot be used as evidence in court to prove a pedestrian was negligent and therefore responsible for the accident.
Drivers in Massachusetts always have an obligation to be on the lookout for pedestrians and must exercise care when driving in order to avoid pedestrian accident. Driving a car at an unreasonable rate of speed in all the circumstances may be evidence of the operator's negligence, as may her failure to slow when approaching a pedestrian. A driver will likely be considered negligent and responsible for a pedestrian accident if he violates any of the following laws:
G.L. c. 90, § 14—Upon approaching a pedestrian who walking on the street and not upon a sidewalk, every person operating a motor vehicle shall slow down;
720 CMR 9.06(28) &350 CMR 4.01(8) –Failing to exercise due care to avoid colliding with a pedestrian
Driver's have been found responsible in Massachusetts for the following pedestrian accidents:
Driver responsible when a pedestrian saw an oncoming car and formed a mistaken but reasonable judgment that he could safely pass in front of the car, or that he reasonably relied on the motorist to see him and stop in time to avoid accident him;
Driver responsible even when a pedestrian stepped into the path of an approaching car, in a case where the approaching car accelerated quickly after the pedestrian moved from the place of safety into the car's eventual path or travel;
Driver responsible even when a pedestrian on a rainy night, having seen a truck approaching him from about 200 feet away and to his left, crossed a wide street, and having come nearly to the white line in the middle of the way, paused there to avoid stepping into the path of automobiles approaching from their right, and where at that point was hit and  injured by the defendant truck driver.
---
Were you hit by a car while crossing or walking in the street?  Find out if you are entitled to compensation by requesting your free, no-obligation legal consultation.
(Click below to request yours today!)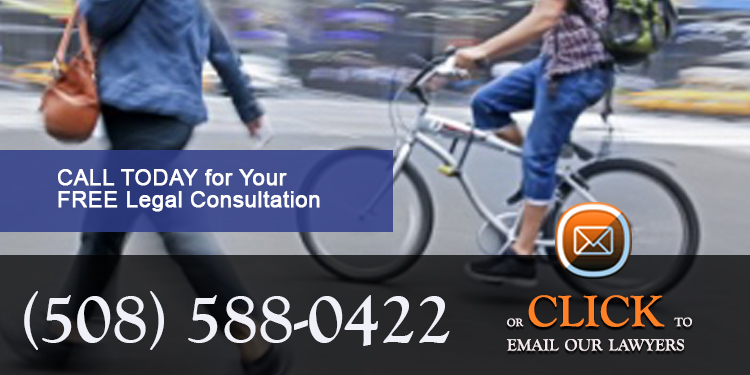 Our personal injury and wrongful death attorneys assist pedestrian accident victims, and family members of fatal pedestrian accident victims, throughout all of Massachusetts including but not limited to Plymouth County, Brockton, Plymouth, Bridgewater, Marshfield, Hingham, Duxbury, Wareham, Abington, Rockland, Whitman, Hanson, Holbrook, Middleborough; Norfolk County including Quincy, Stoughton, Dedham, Weymouth, Braintree, Avon, Holbrook, Randolph, Canton, Sharon, Brookline, Franklin; Bristol County including New Bedford, Fall River, Taunton, Attleboro, Westport, Dartmouth, Mansfield, Easton, Raynham, Lakeville, Norton; Cape Cod, Hyannis, Falmouth, Barnstable and the Greater Boston area including Cambridge, Somerville, Medford, Everett, Lawrence, Lynn, Revere, Dorchester, Roxbury.