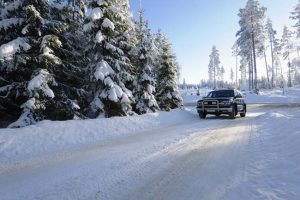 Greater Boston Area Auto Accident Attorneys
Compared to other states, an unusually large number of car accidents in Massachusetts involve only a single vehicle. A fair proportion of these accidents can be traced to the causes you'd expect—inebriated or inexperienced drivers, distractions while driving (like lighting up a cigarette or talking on a cell phone), swerving to avoid another car, or speeding. But not all single car accidents are the fault of a driver, but are instead, are caused by unsafe or dangerous road conditions.
The fact is that the state of Massachusetts and its municipalities have a responsibility to provide, and maintain, safe driving conditions on the state's roads and highways. This includes installing stop signs and traffic lights in the proper locations, clearing away trees or foliage that obscure traffic signs or create blind spots, not allowing trucks to park in locations that can interfere with a driver's line of sight, and, of course, promptly plowing roads and fixing potholes.
Victim in a Car Accident Because Of Dangerous Road Conditions? Talk to an Experienced Boston Lawyer for Free
If you believe that your single-car accident has been caused, or exacerbated, by an improperly maintained road or highway, The Law Offices of Gerald J. Noonan can help you sue the state of Massachusetts or the local municipality for damages. Even in cases involving driver error or distraction, it may be possible to prove that your car accident would have been minor or inconsequential if not for the hazardous conditions in which you were compelled to drive.
No matter where you are located, we are just a phone call away. Call our Boston Car Accident Lawyers to schedule a free no-obligation case review and consultation at (508) 588-0422 and you will have taken your first step towards getting fair compensation for your injuries or for the loss of a loved one. You can also click here to use our Free Case Evaluation Form.
Our knowledgeable and experienced Boston Personal Injury Attorneys assist auto / car accident victims throughout all of Southeast Massachusetts, including but not limited to Quincy, Plymouth, Marshfield, Attleboro, Braintree, Brockton, Taunton, Bridgewater, Hanover, Duxbury, Whitman, Weymouth, Hingham, Rockland, Middleborough, Raynham, Mansfield, Avon, Canton, Stoughton and all smaller cities and rural areas in Southern Massachusetts. We also serve the counties of Plymouth, Norfolk, Bristol, Massachusetts.